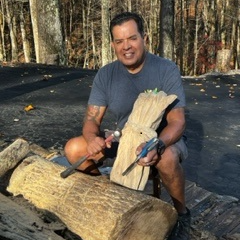 Louie LaChusa is a Native American Indian from San Diego, California. He retired in 2018 and moved to Hendersonville, North Carolina where he found himself with plenty of free time to pursue his lifelong love of art.
"I've always had an eye for photography, color, and art. Over the years I dabbled in digital art, colored pen and ink drawing, and acrylic painting. After moving to Western North Carolina I finally found my medium: wood. I listen to each piece of wood as I carve, with the stump often telling me what it is to become. I like to think I'm merely bringing the spirit of the wood to life in a new form. That idea led me to refer to my art pieces collectively as 'good spirits'."
Louie begins each sculpted piece of wood with his chainsaw, before moving on to more precision woodcarving tools to craft the intricate details. Each wood sculpture he creates is unique with a personality and character of its own. He has crafted everything from bears to Native American Indians, eagles, owls, dogs, horses, and even mailbox and holiday décor. His one-of-a-kind pieces of art are beautiful decorations both indoors, and outside in their natural environment.